'Next Stop Beulah Land'
"This album is a beautiful example of acoustic blues with tasteful harmonica, classic slide playing & sweet harmonies
… this is bound to do well".
Scott Levi ABC Radio Central Coast.
HARD COPY AVAILABLE HERE


'Dry Long So'
"I love this record. It's a slice of 1929 for 2009. It's also a record I've been awaiting with baited breath since chatting with the Sydney based Blues Preachers last year. Harmonica player, Captain Bluetongue sent me the rough mixes not long afterwards, and even in their rough state, these songs stood proud and defiant, much like the men in the soup lines you see on the cover of Dry Long So – broken men, but ramrod straight til the end, doing what they have to do to feed their families. That's what this record is like".
Sam Fell Rhythms Magazine March 2009
HARD COPY AVAILABLE HERE


'Dead Catz Can Bounce'
The Blues Preachers continue their blues and roots musical journey with their latest release: 'Dead Catz Can Bounce'. Unlike their previous releases, this album contains 7 original songs about the big issues of today: the global financial crisis, greed, relationships, global warming, materialism, life and death and the search for truth and meaning in the great age of misinformation. Featuring 'Divine Justice Coming Down' a song about the Global Financial Crisis that was highly acclaimed and nominated in both the Australian Songwriting Awards (ASA)
and The Independent Music Awards (IMA).
HARD COPY AVAILABLE HERE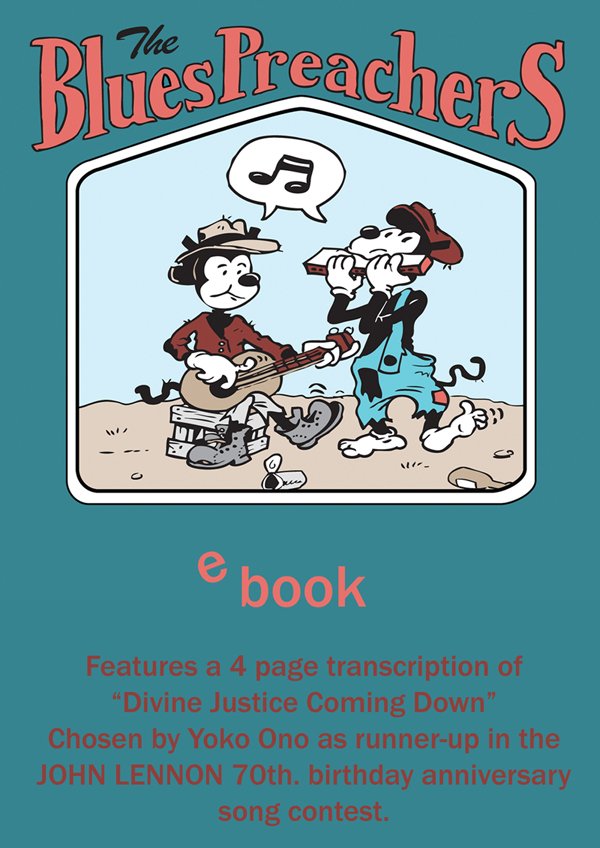 The Blues Preachers E-Book
The Alternating Bass Style as performed by THE BLUES PREACHERS.This new version is fully type set and optimized for Adobe Acrobat Reader X and includes "Divine Justice Coming Down" which was hosen by Yoko Ono as runner-up in the John Lennon 70th. anniversary song writing contest.
The accompaniment, intro, outro and both slide solos have been transcribed. http://www.youtube.com/watch?v=uzh9ULTM1e0
A total of 13 tracks transcribed from their highly acclaimed albums: 'Next Stop Beulah Land', 'Dry Long So' and 'Dead Catz Can Bounce'
Includes TAB for songs by Mississippi John Hurt, Reverend Robert Wilkins, Blind Willie Johnson, Blind Blake and more.
Each page contains an embedded audio file. Click on the speaker icon to hear the track as you read the TAB.
Just $10 (USD)